Colophon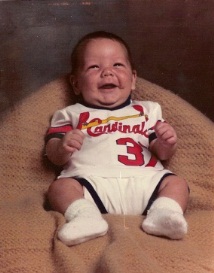 Hey, see that cute little baby over there? That's me. Cute kid, eh? Yes, even as a baby I was a die-hard St. Louis Cardinals fan. I'm Mike Schepker and here is the brief story of his life.
I was born and raised in St. Louis. North County (or NoCo) to be exact. To be even more exact, Dellwood. I have two sisters, both of them older. As you can imagine, this caused a bit of trouble for me (and them) when I was young. I did everything I could to make their lives miserable. Just ask my oldest sister Sarah. I'm sure we lived to torment each other. My other sister, Lisa, and I always got along, but there were times where her, and her friends, wanted to kill me, I'm sure.
From Kindergarten through my 8th Grade year I attended school in the Riverview Gardens School District. I made some great friends there, but after my finishing the 8th Grade I had to leave them all behind. Right before my Freshman year of high school my family moved to St. Peters, MO and I became a student in the Fort Zumwalt School District. I started school at Fort Zumwalt South High School. I hated my freshman year, as I was new and didn't know anyone.
Sophomore year, I really started liking school. I started to come out of my hardened shell and took a chance on some new people. Instead of comparing everything to where I used to live I accepted that St. Peters was now my home and these new classmates would be my friends. It was this year that I met some of my best friends. I also had a teacher that made me want to become a teacher. Fast forward quickly through the rest of high school and you will see that my entire high school career I was focused on one thing, becoming a Social Studies teacher.
I started college in the fall of 2001 at Southwest Missouri State University. I made some great friends there, changed my major from History to Computer Information Systems, then back to History. I really made some great friends in the History department and loved all the classes I took. I joined Phi Alpha Theta, the honors history fraternity, and enjoyed lively discussions and conferences around various historical topics.
After graduating from the newly named Missouri State University in 2005 with a BSEd in History, I worked as a substitute teacher for Fort Zumwalt, the very school district I graduated from and in which I student taught. The next year, while trying to secure a job in the over populated field of high school social studies, I worked as the In School Suspension teacher at a middle school. This experience taught me a lot about classroom management and how to maintain a distraction-free learning environment.
After the school year I decided to take a job in web development. I've always enjoyed working on websites as a hobby, since my senior year in high school, and decided that when the opportunity arose, I'dswitch fields. I'm not completely removed from the field of education as I also spend part of my free time as a teacher at Sylvan Learning Center. Since I love technology and teaching, I would love to be in a position where I could develop and teach new ways to incorporate technology in the classroom.
Currently, I work for a small Web Development company in the St. Louis area. We specialize in creating web-based solutions for churches and other organizations.
(c) 2017 MikeSchepker.com. All rights reserved.